Steve Bannon: A Propaganda Retrospective, 2018–2019
The planet SECURITY emerged thanks to people like Steve Bannon, Donald Trump's former chief strategist, who directed numerous documentary films that shaped alt-right propaganda. Jonas Staal presents a retrospective of Bannon's work by methodically dissecting the mechanisms of the ultra-right propaganda that depicts a grim image of a decadence to come. The films depict a future frighteningly beset by economic crises, Islamic fundamentalism, and secular hedonism, and propound the idea that only a strong leader can serve as a rampart in defense of family values, Christian faith, military might, and, of course, the US economy.
Instead of presenting a criticism that would deliver blunt blows to the populist leaders, Staal's installation explains precisely what makes this propaganda attractive in order to better understand how it can be countered.
As the artist says,
deconstructing the work of Bannon involves deconstructing the mechanisms of cultural warfare that enable authoritarian governments, and shows us the power of art and culture to construct alternate realities. But it also asks us how we could engage art and culture to create different egalitarian realities, to counter the life-threatening alt-right propaganda of our present.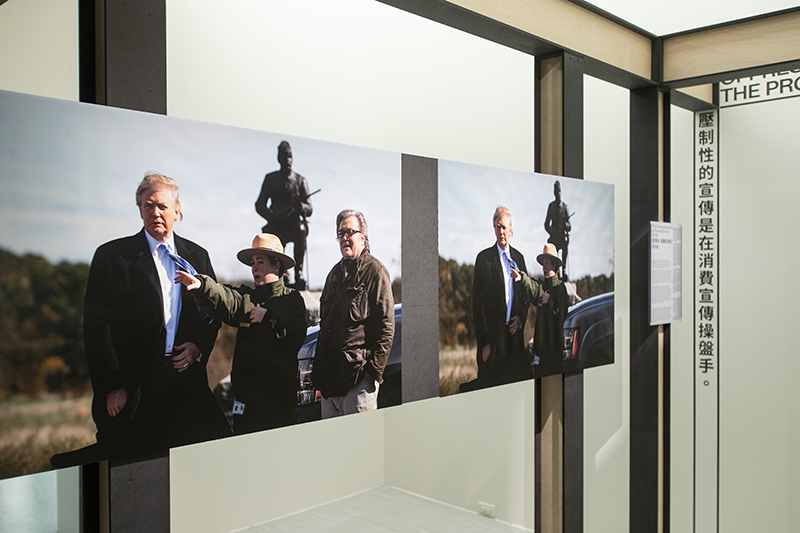 Steve Bannon: A Propaganda Retrospective was originally commissioned by Het Nieuwe Instituut in Rotterdam, The Netherlands, in 2018. This adapted installation was co-produced by Het Nieuwe Instituut and the Taipei Biennial.